Write like a native speaker
Write better English. Faster. Join tens of thousands of users worldwide.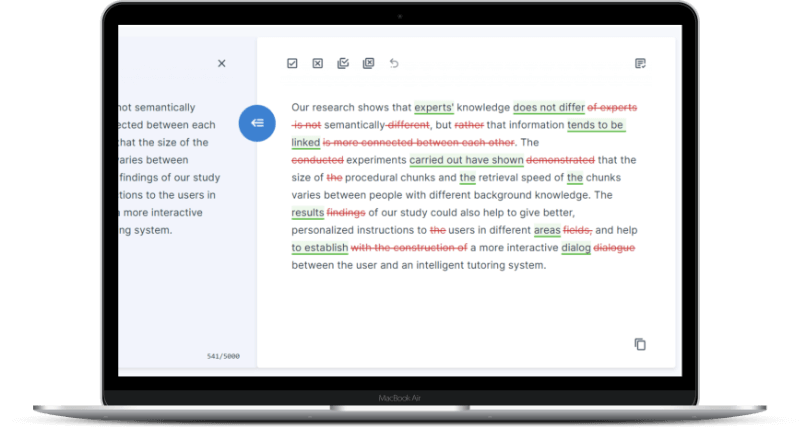 Write like native speakers. Improve your texts instantly and effortlessly. A.I. algorithms provide us with an opportunity to overcome language barriers. Everyone of us should be able to improve our texts to a native-speaker level. In the matter of seconds. InstaText works as a rewriter that can rephrase, paraphrase or correct my sentence, paragraph or even the entire article. It offers vocabulary enhancements and better usage of words, improved spelling and punctuation, correction of grammatical mistakes, and more. All in a user-friendly online editor.
Click to start using
InstaText is a user-friendly writing and editing tool that helps you rewrite your text so that you are understood and perceived as a professional. InstaText improves styling and word choice, corrects grammatical errors and enriches your content to make it more readable and understandable.
Communicate effectively
Write clearly and accurately, produce high quality and efficient sentences.
Boost productivity
Improve your text interactively and quickly get ideas on how to improve your text.
Self-improvement
Make your writing stand out and learn how to write better English.
I am a translator and proofreader by profession and have tried many editing tools. It's not an exaggeration to say that all the other apps I've used so far don't come close to InstaText. It is literally innovative and revolutionary and has taken the editing game to a new level, leaving other competitors in the dust.
InstaText in companies, research and academia
This tool is outstanding, exceeded my expectations. I'm used to using Grammarly but InstaText is a more thorough tool and comes up with much better suggestions for rewrites. A game changer for editing.
Stephan Skovlund
Business Consultant
It has been incredibly liberating to not agonize over every last word, secure in the knowledge that the AI has my back and will smooth out the occasional rough edge. That freedom alone boosted my daily word counts by more than 10%, which is gold dust!
Using InstaText is intuitive and simple. We use it by copying previously created texts (emails, offers, project descriptions...) and checking them for possible improvements. The main advantage is that InstaText suggests how to rewrite the whole text and automatically selects more suitable words. This allows us to get the improved text faster and easier.
Enya Caserman
Business Designer
I use your great program regularly and it is truly the best among all the tried grammar checking tools. Thank you very much for it!
Dr. Nives Kokeza
Author and Translator
I find InstaText very helpful. It makes me much faster in writing papers. I'm a perfectionist and usually spend (way too) much time finding the right words and making sure that sentences are easily readable even if the concepts are arbitrarily complicated. InstaText makes my life easier. I recommend it to any PhD student or researcher, whether a native English speaker or not.
Giulia Guidi
PhD Student, University of California, Berkeley
InstaText helps me find the right words and expressions already during the writing process and to form sentences faster. It also gives me the certainty that what I have written is said in correct and understandable English.
Adrijana Leonardi
Specialist Research Associate
I can hardly imagine writing articles without InstaText. When I read through the proposed improvements, I immediately understand how the text should sound. It's like a proofreader you can access at any time.
Dr. Jana Krivec
Senior Lecturer
InstaText is a great tool! I use it to improve English texts such as articles, projects and abstracts for conferences. The tool provides very useful suggestions that help me to translate the text to a professional level so that no additional review by "native speakers" is required. The time and money savings are obvious. I highly recommend it!
Dr. Janez Konc
Senior Researcher
InstaText was very helpful for me and my students. With its help we have published articles in several scientific journals with high impact factors.
Dr. Urška Vrabič Brodnjak
University Professor
InstaText is an excellent program that helps me to finally write good English in my scientific papers. It is very user friendly and allows you to manipulate the text the way you want. The final sentences will sound great!
Dr. Dražen Jurišić
University Professor