Improve your academic writing
Write like a native speaker. Get your papers accepted.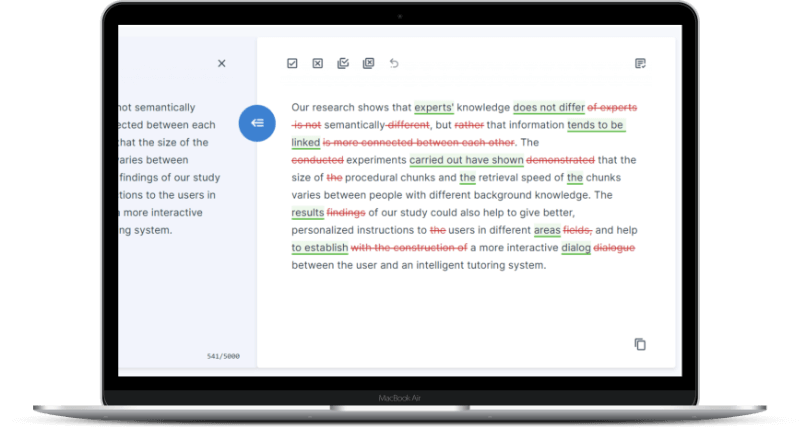 Our research shows that knowledge of experts is not semantically different, but rather that information is more connected between each other. The conducted experiments demonstrated that the size of the procedural chunks and retrieval speed of chunks varies between people with different background knowledge. We unequivocally demonstrated that amount of recalled chunks varies according to knowledge and order of information.
Click to start using
InstaText is a user-friendly writing and editing tool that helps you rewrite your text so that you are understood and perceived as a professional. InstaText improves styling and word choice, corrects grammatical errors and enriches your content to make it more readable and understandable.
Communicate effectively
Write clearly and accurately, produce high quality and efficient sentences.
Boost productivity
Improve your text interactively and quickly get ideas on how to improve your text.
Achieve your goals
Increase your acceptance rates and shorten the time to publication.
Last year our faculty ordered a full-year license for all staff, and after one year we find that the number of high-quality articles has doubled and the volume of all articles has increased. Without exception, all staff members are very enthusiastic about the application and can no longer imagine doing scientific work without it...
InstaText in research and academia
I am a translator and proofreader by profession and have tried many editing tools. It's not an exaggeration to say that all the other apps I've used so far don't come close to InstaText. It is literally innovative and revolutionary and has taken the editing game to a new level, leaving other competitors in the dust.
Dr. Ghodrat Hassani
Researcher in Translation Studies
I find InstaText very helpful. It makes me much faster in writing papers. I'm a perfectionist and usually spend (way too) much time finding the right words and making sure that sentences are easily readable even if the concepts are arbitrarily complicated. InstaText makes my life easier. I recommend it to any PhD student or researcher, whether a native English speaker or not.
Giulia Guidi
PhD Student, University of California, Berkeley
InstaText helps me find the right words and expressions already during the writing process and to form sentences faster. It also gives me the certainty that what I have written is said in correct and understandable English.
Adrijana Leonardi
Specialist Research Associate
I can hardly imagine writing articles without InstaText. When I read through the proposed improvements, I immediately understand how the text should sound. It's like a proofreader you can access at any time.
Dr. Jana Krivec
Senior Lecturer
InstaText is a great tool! I use it to improve English texts such as articles, projects and abstracts for conferences. The tool provides very useful suggestions that help me to translate the text to a professional level so that no additional review by "native speakers" is required. The time and money savings are obvious. I highly recommend it!
Dr. Janez Konc
Senior Researcher
InstaText was very helpful for me and my students. With its help we have published articles in several scientific journals with high impact factors.
Dr. Urška Vrabič Brodnjak
University Professor
InstaText is an excellent program that helps me to finally write good English in my scientific papers. It is very user friendly and allows you to manipulate the text the way you want. The final sentences will sound great!
Dr. Dražen Jurišić
University Professor