One of many beautiful characteristics of a content it is its ability to represent us to wider audiences. We can say that content we write for the public acts as our ambassador. The content is a manifest of us. It represents us, tells others who we are, demonstrates our knowledge and shows what we stand for. We can use all this to our advantage personally, in business or academia by positively influencing the audience and build some social or other capital that will help us get to the next level.
Our writing is the window to ourselves
The content we create can be disseminated in a variety of ways. It can be in the form of letters or emails, in the form of professional articles and even as scholarly publications for journals, and other publications as theses of our studies.
But the goal stays the same. With our content, we try to convince others that we know what we are talking about and that they can trust us. In this case, we can talk about a kind of social capital that we can invest in our relationships, in the present and in the future. And that makes it very special indeed!
Content lives online and offline
Good content is first and foremost original content that has two goals. To convince the audience of our knowledge and skills and these days also to get ranked highly in the search engines. We must not forget that most of our written content will find its way to the web and search engines sooner or later. And this is something we need to think of before we start writing.
If the latter is not original, the search engines will punish us with a lower ranking. The audience will be annoyed at the waste of time. And this can turn our capital in the form of content quickly into a negative capital. And we do not want that! First thing we can do about it is to deliver it in a unique manner. The manner that tells our audience that we are something different, something special. We can do this by developing our own personal writing style.
Personal writing style
Authors can help themselves with their unique writing style by using unique words to present themselves and the specifics of their work. Thus, the author's goal manifests itself in the use of tone, word choice, and sentence structure. The author's personal style is also influenced by figurative language, sensory details, and other elements also found in prose.
We can also adapt our writing style to the content we are writing, whether it is writing stories, business letters, or academic papers. The choice how to do it is ours and so it is the way how to evolve our personal writing style. It is not an easy way, but to comfort you, all the greats like Agatha Christi, Dan Brown and others, had to tread through the same path on their way to greatness.
Uncover your own creative identity
To become a prolific writer, you must first get to know your audience who you are writing for. Second, you need to develop your own personal writing style. This will be influenced by your innate characteristics, but at the same time, you can also sport it with the help of your personal choice of writing style and personal preferences and experiences.
If you want to become more confident as a writer and produce unique writing, these tips should help you develop your creative identity:
Address your preferences: write what you want to write. Develop yourself as a writer by writing the stories that make you happy.
Draw from your experiences: To shape your personal voice and style, explore your unique interests and life experiences and let them become your creative playground.
Pursue your favorite clichés: make a list of elements you love and work to incorporate them into your stories. Allow these elements to influence your voice.
Experiment with style: you don't have a style, you develop it. Many writers develop their own style that feels most comfortable to them. Prefer plain or over-stylized language. Past or present tense, etc. Use your time to experiment, adopting the style elements you like and letting go of those that don't suit you.
Find your voice – your personal style: if you don't have a story to tell your readers, you can at least infuse your article with your personal style. Instead of writing like you're delivering a dry research paper, write like you're telling a friend about a cool new thing you learned.
The one thing you have that other writers don't is your voice, and your voice is shaped not only by your writing style, but also by your experiences. Whenever you can, don't just report on a topic, tell a story. Remember, developing your own style is simply a development that reflects your own growth and life experiences.
How InstaText improves our writing and elevates our personal writing style
The technology behind InstaText represents a paradigm shift. InstaText understands the underlying concepts of how text should sound and corrects it accordingly. It's easy to use, it's intuitive, and it offers much better control over text than existing tools on the market. InstaText helps you evolve as a writer while you do not have to worry about grammar and translating your thoughts into easily understandable sentences. Talking about a personal writing aid and editor here! It is a luxury indeed.
At the end the user gets a concrete solution in the form of a fully edited text! The tool is very easy to use as it is automatic. After the user copies the text into the designated text field, the tool analyzes the text and starts rephrasing the sentences in real time, suggesting more appropriate expressions and correcting grammatical errors. The user can accept or reject them. Simple as that. But there is more! New InstaText's feature called Personal dictionary helps writers to attain and evolve their personal writing style. If interested, read on!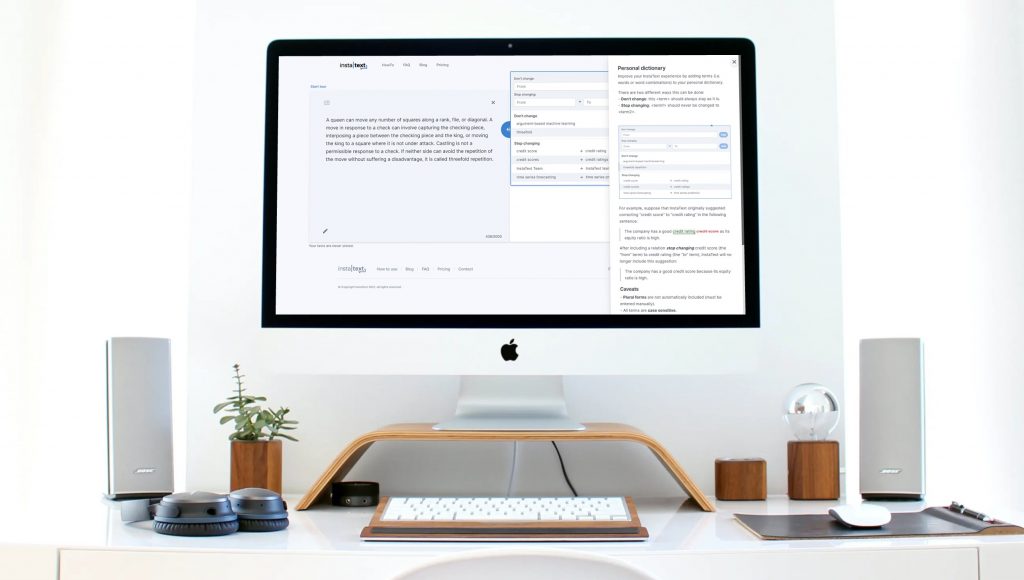 Personal dictionary
The English language is rich in possibilities, and retaining word combinations is a complex problem. With the personal dictionary, you can add your expert knowledge to the powerful AI that runs and evolves in the background. Together, you can take your writing to the next level and sound like a native English speaker.
InstaText's personal dictionary allows you to retain words and word combinations that are part of your professional language or personal style. This new feature will further increase your writing productivity.
All of this is available to you as free 14-day trial. The tool is also available on a monthly or annual basis. Choose what suits you best.
Remember, with InstaText, you get a solution that lets you evolve as a writer and gets you closer to your audience!