How to use the InstaText for Word Add-in
The first step is to install InstaText Add-in in your favourite Word application.
Supported versions
The following applications and platforms are supported:
Word on Windows (Microsoft 365)
Word 2019 or later on Mac
Word on the web
Word on iPad
Office 2016, Office 2019, and Office 2021 (Windows) are not supported.
If you are using Word 2019 on Mac, please update it to the latest version.
Installation
Open your version of Microsoft Word (Microsoft 365 on Windows, Word 2019 or later on Mac) and in the Insert menu, click Get Add-ins. A new window should open, taking you to Microsoft's Add-in store (AppSource). Search for InstaText and click Add.
To install InstaText on Microsoft Word's online version (Word on the Web): In the Insert menu, click on the Add-ins button and go to the Store tab. Look for InstaText in the search bar and click the Add button.
You are now ready to activate and use your product. Follow the instructions below.
Activation
1. To open the Add-in, click on the Launch InstaText button.
2. InstaText will open in a side panel, next to your document. Click Let's start.
3. You will be directed to your browser, where you will need to sign up or log in with your InstaText account. Click Start activation.
If you are using Word on the web, you might need to allow pop-ups in your browser settings before you create or log into your InstaText account.
4. Once activated, return to Microsoft Word, and click Activate.
5. You are ready to improve your texts. Adjust the language settings to your current needs.
6. Select the text in the document that you would like to improve and click Improve Text.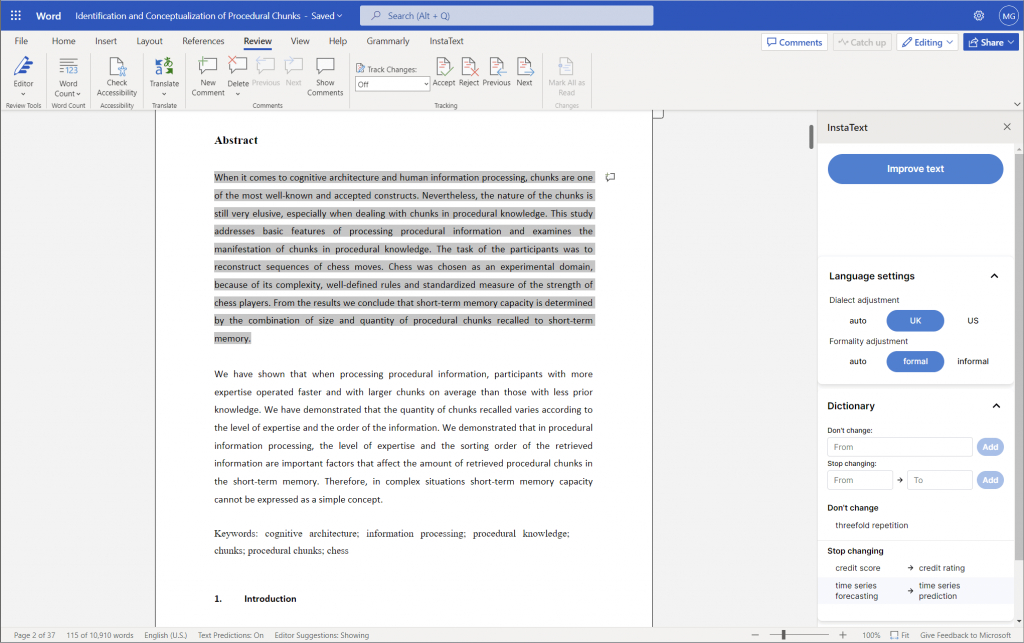 7. Use Word's built-in Track Changes feature to revise suggested improvements.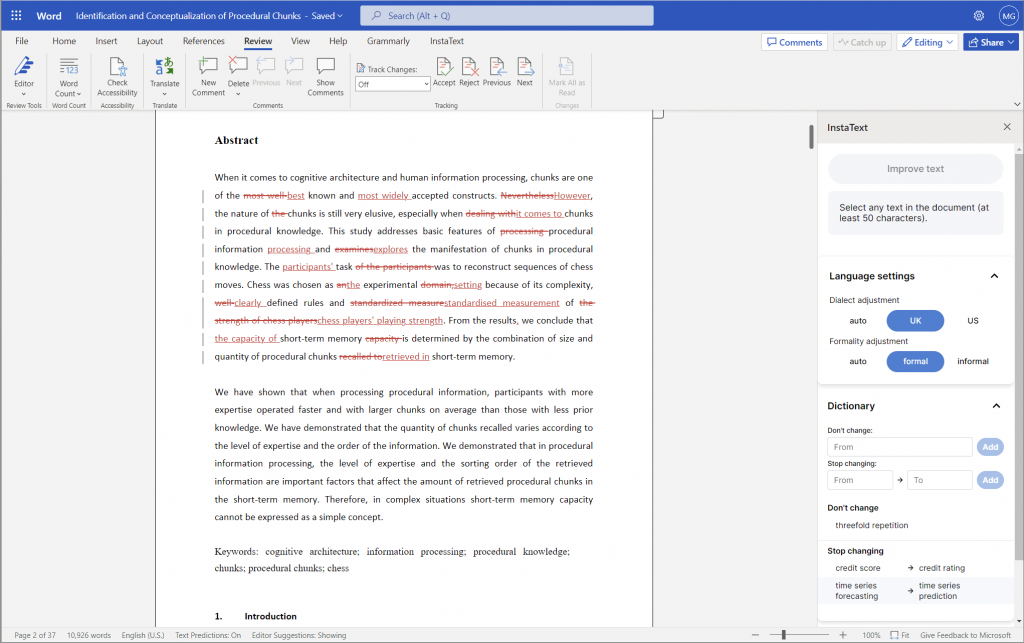 InstaText is constantly updated and improved by our team to make it as useful as possible for you. If you have any questions or suggestions, we would love to hear from you.