The idea of InstaText is to help us write like a native speaker. Using artificial intelligence and language technologies, InstaText automatically improves our English texts. It creates recommendations and ideas on how we can improve the content and make it more readable and understandable. Your texts will sound better and you can create high-quality texts faster than ever before.
Browser extensions enable you to use InstaText in a very convenient way: within your email client, inside a word processor, in a collaboration tool and even on social media platforms. No copy & paste required! Simply select the text you want to improve and click the button or press Ctrl/Cmd+D to send it for improvement. It's that easy!
Supported applications
InstaText arrives to the moment of your writing. InstaText browser extensions will fundamentally change the way you write and edit text.
The browser extensions enable the use of InstaText in these web applications:
Here is a sneak peek at InstaText within Gmail.
You are able to select your text and bring up the InstaText widget simply by clicking the InstaText icon or pressing a keyboard shortcut.
Available in various browsers
InstaText is available in Chrome, Edge, Brave, and Opera (Safari will follow soon). In all cases, simply go to the Chrome Web Store and install the extension. It literally takes less than a minute!
The browser extension features
The browser extension allows you to use InstaText within your email client, inside a word processor, in a collaboration tool and even on social media platforms. No copy & paste required! Simply select the text you want to improve and click the button or press Ctrl/Cmd+D to send it for improvement.
All functions of the InstaText editor are retained, including Language settings and Personal dictionary. A button in the pop-up menu that can be pinned to the browser allows you to quickly activate or deactivate the extension in individual applications.
The Language settings are accessible from the pop-up menu. This feature helps you set your English dialect, adjust your writing style, and make you sound like a native speaker. InstaText rewrites your texts in a way that preserves your authentic and unique voice, something that is valuable for any written content.
InstaText's Personal dictionary allows you to retain words and word combinations that are part of your professional language or personal style.
What is especially handy is that you can also use it to enter multi-word entries. This feature will further increase your productivity when writing. It is accessible via the InstaText online editor.
"I am a translator and proofreader by profession and have tried many editing tools. It's not an exaggeration to say that all the other apps I've used so far don't come close to InstaText. It is literally innovative and revolutionary and has taken the editing game to a new level, leaving other competitors in the dust."

— Dr. Ghodrat Hassani, Researcher in Translation Studies
Why InstaText?
InstaText helps people become more successful by improving their written communication. It is especially useful for academic writing, business proposals, copywriting, marketing materials, and revising translations. People also use InstaText for important emails and other important English texts.
Thanks to InstaText's advanced AI technology, which has a deep understanding of context and semantics, InstaText goes much further than the grammar and writing assistants you already know and offers completely new possibilities.
Academic writing
Where clarity and conciseness are very important, InstaText adds tremendous value. It helps you make your text easier to read and understand. Many researchers have confirmed that InstaText has helped them to significantly increase acceptance rates and shorten the time to publication.
Business communication
Effective written communication is the key to success. InstaText helps you communicate clearly and effectively so that you are understood. InstaText rewrites your text to the level of a native speaker who is highly competent in written communication in English.
Copywriting
Using InstaText is the most productive way to proofread and edit. The editing stage of the writing process is where InstaText is particularly useful. And, as any experienced writer will tell you, the editing is the key to success.
Marketing communication
InstaText makes your texts sound better. It helps you proofread and edit all kinds of content: blog posts, websites, whitepapers, etc. The browser extension is available on all major social media platforms, making your writing stand out. InstaText will boost your productivity.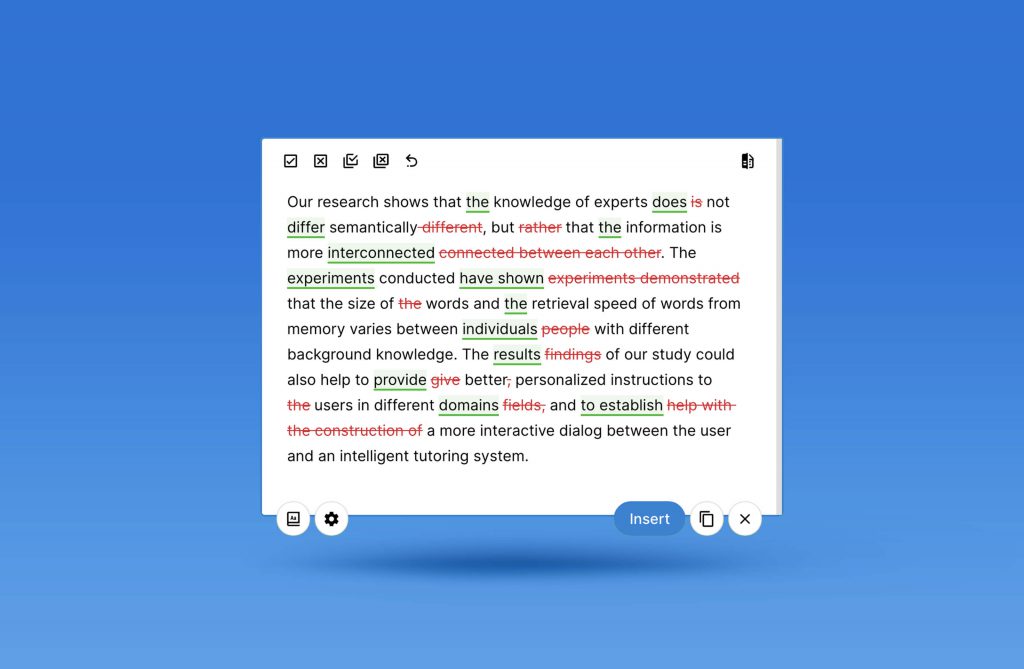 Here are some more reasons why so many people like InstaText…
InstaText fully respects your privacy
With InstaText, your texts are never stored. The InstaText browser extension does not "hijack" your web forms and does not proofread the text as you write it. You select the text and click the button or press Ctrl/Cmd+D to send it for improvement.
Improve your text with just a few clicks
Unlike grammar checkers, InstaText lets you correct your entire text at once with just a few clicks. And not just spelling and grammar. It also takes into account the context of the sentence. This greatly speeds up your writing process. Of course, you can revise the suggestions first and reject some before accepting everything else.
Turn your ideas into written text
Instead of focusing on words, turn your ideas into meaningful messages in seconds by using methods such as rephrasing, suggesting appropriate phrases, and correcting grammatical errors.
Never lose your unique voice
Rewrite your texts based on suggestions that don't take your essence out of your writing. You never have to sound like a machine.
Focus on your message
Paste your unfinished draft into InstaText without worrying about your grammar or readability. Focus on your message and your unique voice and InstaText will handle the rest.
Become a better writer
Develop your unique writing style while improving your grammar, vocabulary, and focusing on your message.
InstaText not only helps you by correcting your mistakes, but always offers concrete suggestions and helps you rewrite your text with improved styling and word choice.
"Using InstaText is intuitive and simple. We use it by copying previously created texts (emails, offers, project descriptions…) and checking them for possible improvements. The main advantage is that InstaText suggests how to rewrite the whole text and automatically selects more suitable words. This allows us to get the improved text faster and easier."

— Enya Caserman, Business Designer
"I work in marketing, where I also do a lot of content creation, so InstaText and I have become good friends. It helps me polish my English texts every day at work. Not only is it a proofreading tool, but it also makes the text sound better. The AI behind it works great. I used to use Grammarly, but Instatext does a better job for me."

— Barbara Viskovic, Marketing And Public Relations Specialist
"This tool is outstanding, exceeded my expectations. I'm used to using Grammarly but InstaText is a more thorough tool and comes up with much better suggestions for rewrites. A game changer for editing."

— Stephan Skovlund, Business Consultant