The idea of InstaText is to help us write like a native speaker. Using artificial intelligence and language technologies, InstaText automatically improves our English texts. It creates recommendations and ideas on how we can improve the content and make it more readable and understandable. Your texts will sound better.
With InstaText, the writing process is no longer tedious and lonely. We can create high-quality English texts faster than ever before. InstaText is also the first intelligent tool that enables iterative writing. It follows the idea that texts can be improved in iterations to get the message across in the most effective way.
With InstaText you'll be able to express yourself better, whether you write academic papers, personal emails, business proposals, marketing content, revise translations or exchange instant messages with your colleagues.
Thanks to InstaText's advanced AI technology, which has a deep understanding of context and semantics, InstaText goes much further than the grammar and writing assistants you already know and offers completely new possibilities.
Chrome extension
The upcoming Chrome extension will fundamentally change the way you write and edit text. You will be able to use InstaText not only in our web application, but also in all web-based environments and applications, including Gmail, Google Docs, Outlook Web, Slack, Facebook, Twitter, LinkedIn, and WhatsApp to make your writing stand out.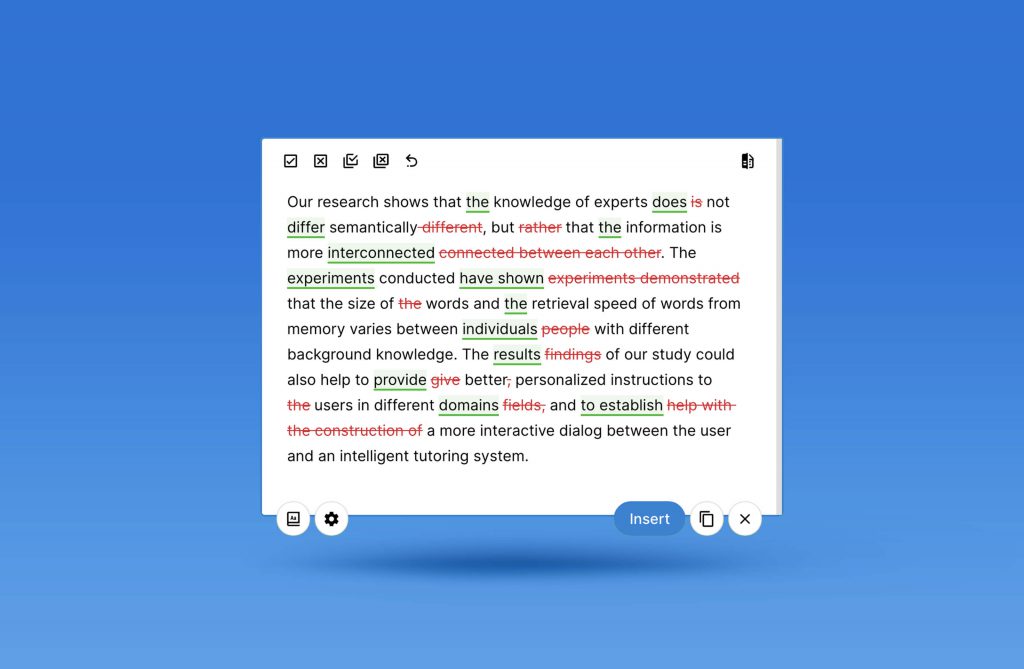 The Chrome extension brings InstaText closer to the moment you are writing. You will be able to select your text and bring up the InstaText widget simply by clicking the InstaText icon or pressing a keyboard shortcut.
As usual with InstaText, your texts are never saved. InstaText fully respects your privacy.
InstaText helps you express yourself clearly and sound like a native speaker. Here are some other considerations:
Turn your ideas into written text
Instead of focusing on words, turn your ideas into meaningful messages in seconds by using methods such as rephrasing, suggesting appropriate phrases, and correcting grammatical errors.
Never lose your unique voice
Rewrite your texts based on suggestions that don't take your essence out of your writing. You never have to sound like a machine.
Focus on your message
Paste your unfinished draft into InstaText without worrying about your grammar or readability. Focus on your message and your unique voice and InstaText will handle the rest.
Become a better writer
Develop your unique writing style while improving your grammar, vocabulary, and focusing on your message.
InstaText not only helps you by correcting your mistakes, but always offers concrete suggestions and helps you rewrite your text with improved styling and word choice.
"I am a translator and proofreader by profession and have tried many editing tools. It's not an exaggeration to say that all the other apps I've used so far don't come close to InstaText. It is literally innovative and revolutionary and has taken the editing game to a new level, leaving other competitors in the dust."
— Dr. Ghodrat Hassani, Researcher in Translation Studies
Features
The Chrome extension allows you to insert the improved text back into the main application, replacing the original text. Alternatively, you can copy the text to the clipboard and paste it anywhere you want.
It will include all the features of the main application, including Language settings and Personal dictionary. And yes, it will be included in the subscription plans at no additional cost.
The Language settings feature helps you set your English dialect, adjust your writing style, and make you sound like a native speaker. InstaText rewrites your texts in a way that preserves your authentic and unique voice, something that is valuable for any written content.
InstaText's Personal dictionary allows you to retain words and word combinations that are part of your professional language or personal style. It allows you to enter multi-word entries, which is especially handy. This feature will further increase your writing productivity.
Extensions for other browsers will follow soon. Safari and Edge will be supported first.
Early access
Are you interested in early access? That is, you can try the extension before it is officially launched. Contact us and we will activate it for you as soon as it is ready. Please include "Chrome extension" in the subject line.
Our team is constantly working on updates and improvements to make InstaText even better. There is a lot of innovation and various improvements coming, stay tuned. 😉
"This tool is outstanding, exceeded my expectations. I'm used to using Grammarly but InstaText is a more thorough tool and comes up with much better suggestions for rewrites. A game changer for editing."
— Stephan Skovlund, Business Consultant
"I work in marketing, where I also do a lot of content creation, so InstaText and I have become good friends. It helps me polish my English texts every day at work. Not only is it a proofreading tool, but it also makes the text sound better. The AI behind it works great. I used to use Grammarly, but Instatext does a better job for me."
— Barbara Viskovic, Marketing And Public Relations Specialist
"I find InstaText very helpful. It makes me much faster in writing papers. I'm a perfectionist and usually spend (way too) much time finding the right words and making sure that sentences are easily readable even if the concepts are arbitrarily complicated. InstaText makes my life easier. I recommend it to any PhD student or researcher, whether a native English speaker or not."
— Giulia Guidi, PhD Student, University of California, Berkeley