InstaText is now available within Word! Both online and in the classic version. Let's take a look.
If you are too curious to read on and would like to try the InstaText Add-in for Word right now, click on the link below for instructions.

Word 365 on Windows and Word 2019 or later on Mac are supported.

How to use the InstaText for Word Add-in
With the InstaText Add-in for Microsoft Word, you can use InstaText to edit and proofread your documents. It's easy to use: You can generate suggestions by clicking on the Improve text button, and then use Word's built-in Track Changes feature to revise the suggested improvements.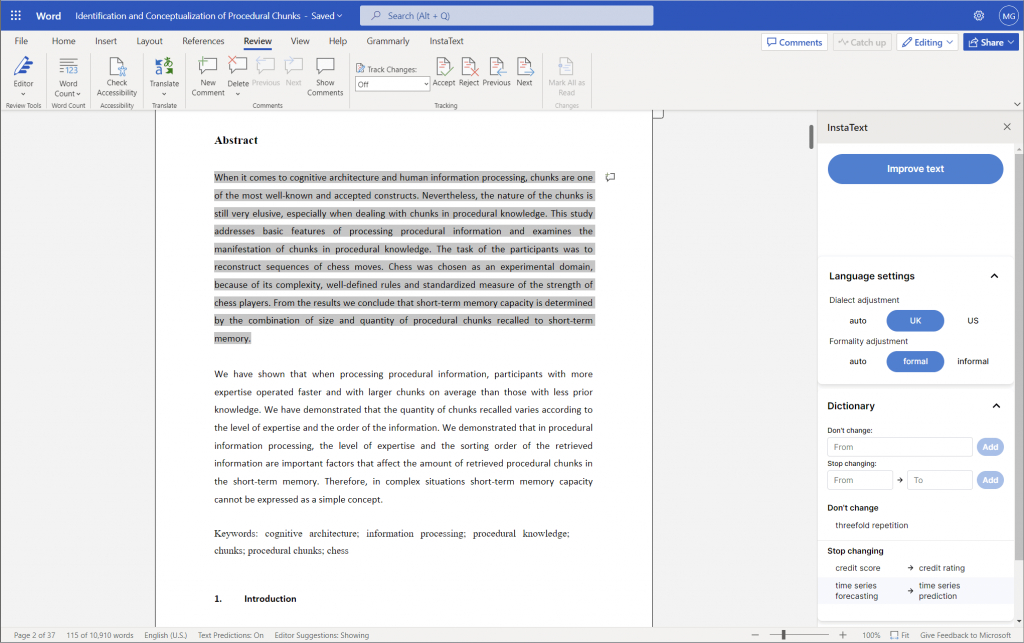 InstaText opens in a side panel, next to your document. The panel allows you to adjust the language settings (the English dialect and the tone of your text) to your current needs and manage your personal dictionary to retain word combinations that belong to your professional language or personal style.
Highlight the text in the document that you would like to improve and click Improve Text. Or even easier, just go to the paragraph you want to improve and click the button. In this case, InstaText will generate suggestions for the current paragraph.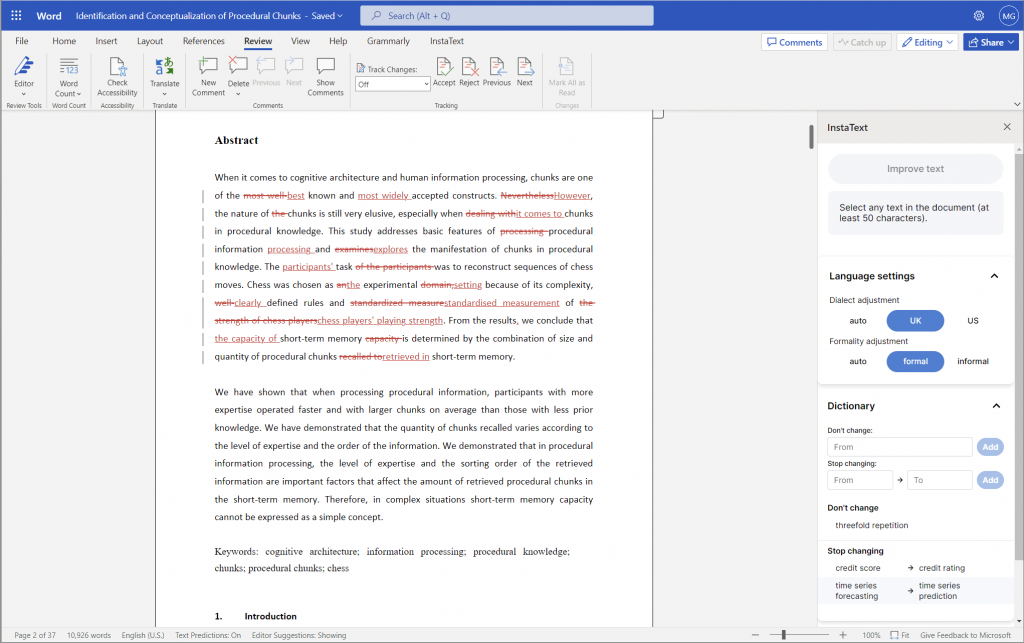 The next step is to use Word's built-in Track Changes feature to revise the suggested improvements. You can use the Accept and Reject buttons in the Review pane, or accept or reject the suggestions with the mouse.
A common strategy for efficient editing is to review the suggested improvements, perhaps reject one or more of them, then highlight the entire paragraph with the mouse and click the Accept button to accept everything else.
With the InstaText Add-in for Microsoft Word, you can work wherever you write or edit your documents.
The following applications and platforms are supported:
Word on Windows (Microsoft 365)
Word 2019 or later on Mac
Word on the web
Word on iPad
Note that the beta version probably still has some glitches and missing features. For example, InstaText does not retain formatting (e.g. bold or italic text) or rich-text references.
However, InstaText is constantly being updated and improved by our team to make it as useful as possible for you. If you have any questions or suggestions, we would love to hear from you.
LaTeX and Overleaf
For as long as we can remember, we have written in Microsoft Word, and we are sure you have too. It works well, but it can become inefficient, especially when editing long research manuscripts. The more a document grows, the more tedious it becomes to keep track of references, tables, figures and formatting.
There is an alternative solution for preparing documents: LaTeX (pronounced la-tech or lay-tech). LaTeX would eliminate several problems in formatting manuscripts. Authors can keep track of references, standardise formatting throughout the document, and easily integrate tables, figures and equations into the text.
The most popular online LaTeX editor is called Overleaf. In the "Source" section on the left, you edit the unformatted text and use commands that help with formatting. The tool then compiles the commands and the unformatted text into a document that you can see on the right.
With InstaText Extension, you can use InstaText within your applications. All functions of InstaText Editor are retained, including Language settings and Personal dictionary.
Overleaf is one of the supported applications. Importantly, InstaText won't correct your LaTeX commands within the text.
The InstaText speed advantage
InstaText is the most productive writing assistant, proofreader and editor you've ever worked with. It provides you with high-quality suggestions for improvements just seconds after your mouse click.
Unlike grammar checkers, InstaText gives you a great overview over revised text. You can finalize each paragraph with just a few clicks, because nothing is hidden from you.
"Excellent app, that helps writing to be done rapidly to a high standard, while maintaining pace and momentum at the first draft and beyond."

— Paul Jenkins, Publisher
Who uses InstaText?
InstaText helps people become more successful by improving their written communication. It is especially useful for academic writing, business proposals, copywriting, marketing materials, and revising translations. People also use InstaText for important emails and other important English texts.
Thanks to InstaText's advanced AI technology, which has a deep understanding of context and semantics, InstaText goes much further than the grammar and writing assistants you already know and offers completely new possibilities.
Academic writing
Where clarity and conciseness are very important, InstaText adds tremendous value. It helps you make your text easier to read and understand. Many researchers have confirmed that InstaText has helped them to significantly increase acceptance rates and shorten the time to publication.
Business communication
Effective written communication is the key to success. InstaText helps you communicate clearly and effectively so that you are understood. InstaText rewrites your text to the level of a native speaker who is highly competent in written communication in English.
Copywriting
Using InstaText is the most productive way to proofread and edit. The editing stage of the writing process is where InstaText is particularly useful. And, as any experienced writer will tell you, the editing is the key to success.
Marketing communication
InstaText makes your texts sound better. It helps you proofread and edit all kinds of content: blog posts, websites, whitepapers, etc. The browser extension is available on all major social media platforms, making your writing stand out. InstaText will boost your productivity.
"Of course, there's Grammarly, a writing assistant that checks the spelling, grammar, punctuation, and clarity of your writing, corrects common errors, and occasionally gives you suggestions for rewording. The thing about Grammarly, though, is that it's a good proofreader, but not an editor. And, as any skilled writer will be happy to tell you, the editing is the secret."

— Jim Stonos, Writer and Editor
"An impressive and innovative writing and editing tool. Completely changed the way I write. A big thank you to the team that delivered this product!"

— İbrahim Niftiyev, Researcher and PhD Candidate in Economics
"I have been using instaText for over a year. In that time, I have worked mostly in academia, on my doctoral thesis, a dozen papers, and, to a lesser extent, private correspondence. I have to admit that InstaText is superior to its competitors (I tested several), which mainly check grammar, punctuation, and spelling (InstaText makes you sound like a very educated native speaker). All in all, this software allows me to enjoy work and focus on WHAT I want to say without worrying about HOW I should say something."

— Michał Folwarczny, Postdoctoral Researcher